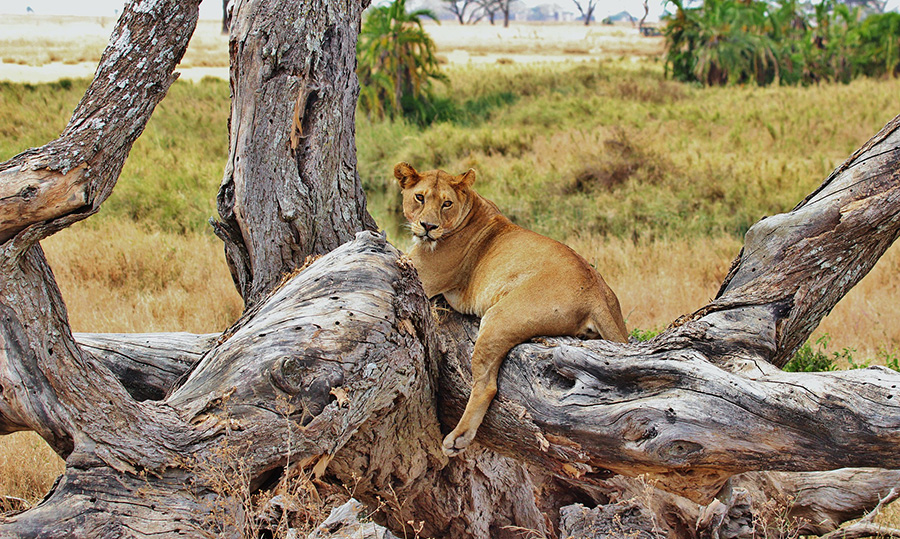 Discover the Wonders of Tanzania 9 days | Roundtrip from Arusha, Tanzania
On this 9-day Discover the Wonders of Tanzania Safari from African Travel, you'll explore picturesque landscapes filled with ancient baobab trees and ambling elephants. Descend through the mists into the breathtaking Ngorongoro Crater, a UNESCO World Heritage Site. Fly to the northern edge of the world-renowned Serengeti for 3 nights of luxury under canvas at the elegant TAASA Lodge.
Tanzania never fails to deliver an exceptional safari experience.
Peace of Mind Travel: African Travel is in constant contact with their partners throughout Africa to provide the utmost in safe and healthy travel. Travelers have the option to postpone travel up to seven days before departure, and reschedule for travel up to one year from the original travel date without penalties. Travelers can also opt for a future travel credit (FTC) valid for future travel with African Travel.
Trip Highlights
Explore Tarangire National Park, a picturesque landscape filled with ancient baobab trees and ambling elephants. 

Discover the Ngorongoro Crater, hailed as one of the Natural Wonders of the World, and home to both predator and prey.

Experience a visit to the Maasai of Ololosokwan. This is a wonderful opportunity to interact with this unique tribe, who are always enthusiastic to share their cultural beliefs.

Enjoy exclusive wildlife viewing at Taasa Private Reserve. Explore the reserve on day and night game drives, and incredible walking safaris.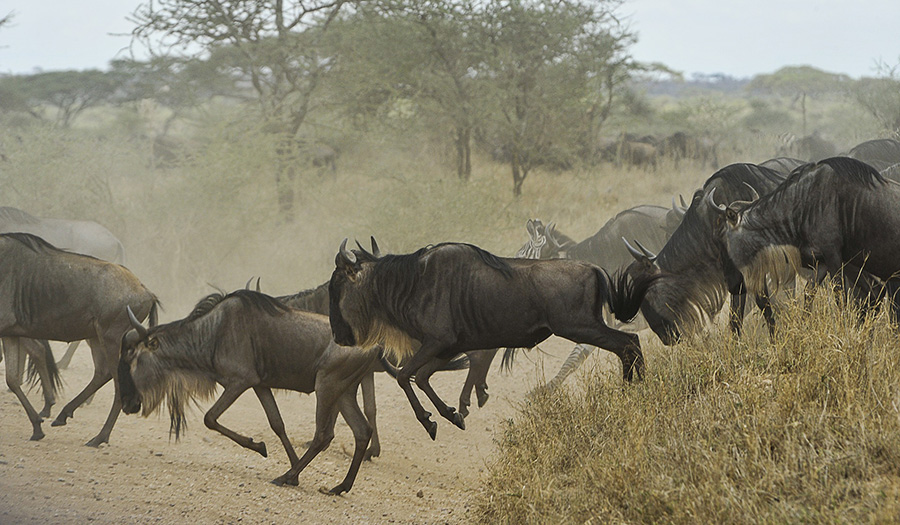 Itinerary at a Glance
DAY 1: Arrive in Arusha, Tanzania
Touch down at Kilimanjaro airport where you'll be greeted and transferred to your well-appointed lodge in a lush garden setting. Relax and enjoy the remainder of your day.
DAY 2: Arusha – Tarangire National Park

After breakfast transfer to Arusha Airport for the light aircraft flight to Tarangire National Park. You will be met on arrival by a Sanctuary Swala vehicle and transferred to camp with a game drive en route. Arrive in time for lunch, followed by an afternoon game drive into this unspoiled wilderness area. Return for dinner, just as the sun begins to fade.
DAY 3: Tarangire National Park

Awaken to your first morning in the wilderness. Explore this remote corner of Tarangire National Park on morning and afternoon game drives. The park is known for its large elephant population and the majestic baobab trees that dwarf the animals that feed beneath them. Return to camp and share your day's adventures over pre-dinner drinks around the campfire. 
You'll also have the chance to visit the beekeeping project in Mwika village. Meet the beekeepers and learn firsthand how the project operates.
DAY 4: Tarangire National Park – Ngorongoro Crater

After breakfast transfer to the airstrip for the light aircraft flight to Manyara airstrip. You will be met on arrival by a camp vehicle and transferred to Sanctuary Ngorongoro Crater Camp set on the rim of the Ngorongoro Crater.
DAY 5: Ngorongoro Crater

Descend through the early morning mist 2,000 feet into the crater for an awesome wildlife experience. Known as the eighth wonder of the world and a UNESCO World Heritage Site, the Ngorongoro Crater is one of Africa's best-known wildlife arenas. Enclosed by towering walls, some 25,000 large mammals wander the plains, lakes and forests, dominated by enormous bull elephants, rhinos and lions. Enjoy a picnic lunch before returning to the lodge in the late afternoon.
DAY 6: Ngorongoro Crater – TAASA Private Reserve, Serengeti

Transfer to Manyara Airstrip for your light aircraft flight to TAASA Private Reserve. Bordering the northern edge of the Serengeti National Park far away from the crowds, TAASA has excellent animal viewing throughout the year with resident wildlife such as lion, cheetah and hyena.
DAY 7: TAASA Private Reserve, Serengeti

Explore the endless plains of the Serengeti during morning and afternoon open vehicle game drives when the animals are most active. TAASA offers the added bonus of night game drives and you may see striped hyena on the prowl or lions on the hunt. Your Maasai guide will be in his tracker's chair mounted on the vehicle front with his floodlight sweeping for the reflective eyes of predators.
DAY 8: TAASA Private Reserve, Serengeti

Accompanied by a professional guide, enjoy a walk in the bush. Learn about the ecology of the area, the medicinal uses of trees and bushes in Maasai tradition, and gain basic skills in tracking. While at TAASA, you can visit the Maasai of Ololosokwan, who are always enthusiastic to share their cultural beliefs.
OPTIONAL ACTIVITY: An optional hot air balloon ride is one of the most magical ways to experience the Serengeti. Balloon safaris take off just before dawn so that you are high above the plains in time for sunrise.
DAY 9: TAASA Private Reserve – Arusha

Savor your last morning in Tanzania. After breakfast transfer to the airstrip for the scheduled light aircraft flight to Arusha. Enjoy lunch and relax at a day room reserved for your use. Later this afternoon transfer to Kilimanjaro Airport for your international departure flight.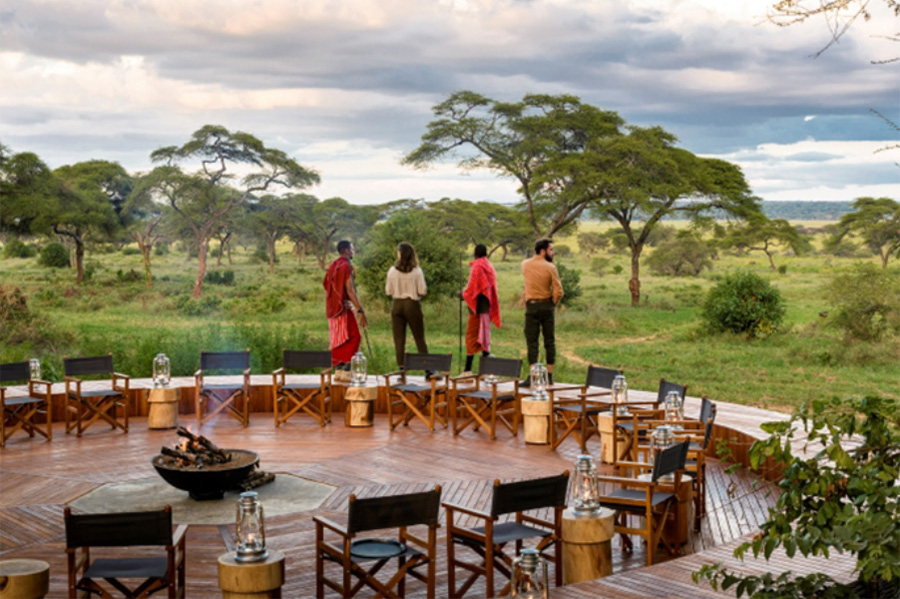 Accommodations
Elewana Arusha Coffee Lodge | Arusha
Hidden among one of Tanzania's largest coffee plantations, the beautiful lodge sits below the rugged peak of Mount Meru, with beautifully designed rooms. Amenities include an à la carte restaurant, a bar and cozy lounge, with open log fires, an enclosed swimming pool and a garden terrace.
Sanctuary Swala | Tarangire National Park
Set in a secluded part of Tarangire National Park, the luxurious canvas pavilions of Sanctuary Swala blend seamlessly with the raw and natural beauty of Tanzania's cinematic savanna. Open-plan rooms are decorated with rich African textiles with floor-to-ceiling windows and private decks provide dramatic views.
Sanctuary Ngorongoro Crater Camp | Ngorongoro Crater
Located in the Ngorongoro Conservation Area in the Ngorongoro Crater rim valley, the camp is located close to the crater floor allowing for easy access morning crater safaris. Classic safari tents are equipped with their own bathroom and indoor bucket shower and an outdoor sitting area to take in the surrounding views.
TAASA Lodge | TAASA Private Reserve
Luxurious split-level tents seamlessly blend modern comforts with uniquely African accents and the raised sleeping area features either a king or twin-sized beds, adorned with traditional Maasai beadwork. Enjoy the views of the Lobo Valley from the serenity of your private verandah, or enjoy a drink on the two outdoor patios.
Dates and Pricing
Multiple Departures in 2021 | From $8,195 per person
Prices are in US Dollars per person based on double occupancy accommodations unless otherwise stated and includes internal flights. Price does not include airfare to and from arrival and departure cities. Contact us for complete details.
Inclusions
Before you Go Welcome Gift – Safari starter kit includes stylish bag, safari swag, and how-to guides on tipping, weather and travel
Dedicated US-based Safari Specialist
Choice of Meet & Greet Services ranging from basic airport transfers to VIP services
Five-star accommodations
Expert guide
Sightseeing activities specified in itinerary
Breakfast and Lunch Daily, 7 Dinners
About African Travel
As the longest established luxury safari operator focused exclusively on the African continent, African Travel, Inc. is dedicated to creating and providing the ultimate African experience. African Travel started with a small hotel in a tiny fishing village and now offers a broad range of trips and styles. Its dedicated team has lived and traveled extensively throughout the continent and shares their wealth of expertise on every safari vacation.
Customize your travel with one of these travel types:
Tailor Made – Create your own bespoke travel experience, the most popular travel style.
Safari Vacation Packages – Choose from over 30 inclusive travel packages, each with a private guide and five-star accommodations.
Group Safaris – Perfect for an intimate group of family and friends.
Contact us to learn more about safari tours with African Travel.